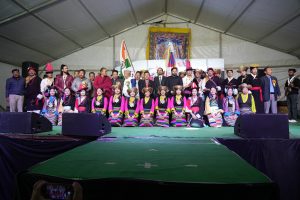 This year has been a special year for TIPA, as we have finally come out of the hibernation imposed by the pandemic in a special year. India is celebrating Azadi ka Amrit Mahotsav, and TIPA joins in the joy with a spirit of brotherhood, gratitude, and celebration. Thirty-five artists put up magnificent shows on the closing day of the Tribal fair in Keylong and performed on all three days of the LaDharcha festival at Kaza, Lahaul Spiti Valley, being held from August 18th to 21st, 2022. On popular demand, TIPA was invited by the organizing committees to perform at these festivals, which coincided with India's 75th Independence Day celebrations. Our shows have enjoyed great popularity in these regions for many years as the local residents share the same strong cultural heritage as the Tibetan art forms.
Different traditional songs and dance sequences and the opera were performed to an audience comprising over 3000 Himalayan residents, and gracing the show were also numerous VIPs comprising the local gentry, SDMs, District Magistrates, and other officials of the state and central governments and the people's representatives, right from local panchayat leaders right up to MLAs and Members of Parliament.
TIPA is an institution formed by His Holiness the Dalai Lama to preserve the endangered Tibetan arts in 1959. TIPA, a registered public society, has been doing yeomen service to this cause since then and has carved out a place in the hearts of the Himalayan peoples as well as audiences across the world.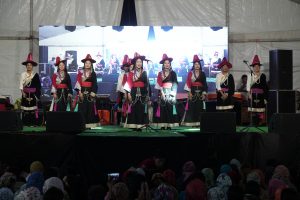 The final and closing day of the famous LaDharcha festival was presided over by the honorable Technical Education and Tribal Development Minister, Government of Himachal Pradesh, Dr. Ram Lal Markanda.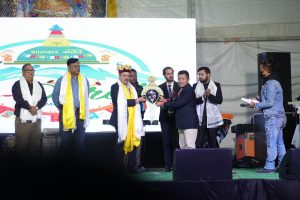 The TIPA director, Mr. Dhondup Tsering, and Mr. Tenzin Phuntsok, assistant director of art presented the chief guest with a traditional hand carving, "Ngonpa Bak," in front of over 4,000 cheering audience members.
The Tibetan Institute of Performing Arts also honored Sh. Abhishek Verma, ADC, Kaza, and Sh. Gunjeet Singh Cheema, SDM, Kaza, expressing our gratitude and appreciation for the harmony between the Tibetan and Indian communities.
The TIPA director, Mr. Dhondup Tsering, gave a warm thank you address, appreciating the organizing committee chairperson and all committee members, as well as the Kaza public, for showering their appreciation, love, and affection on our traditional cultural performances. The 4000 plus audience witnessing the show was overwhelmed and sincerely applauded the Tibetan traditional dances which marked the end of this year's LaDharcha festival.