བོད་ཀྱི་ཟློས་གར་ཚོོགས་པའི་ཆེད་ལས་འཁྲབ་སྟོན་པ་རྣམས་ཀྱིས་གུས་བརྩི་ལྡན་པའི་ངང་རྒྱ་གར་གྱི་སྐུ་མགྲོན་རྣམས་ལ་བོད་ཀྱི་རིག་གཞུང་འཁྲབ་སྟོན་གཟབ་རྒྱས་གཟིགས་འབུལ་ཞུས་ཡོད་པ་སྟེ། ཕྱི་ལོ་ ༢༠༢༣ ཟླ་ ༠༩ ཚེས་ ༢༣ ཉིན་ཡིད་དབང་འཕྲོག་པའི་དགོང་མོར་རང་གཞུང་བོད་མིའི་སྒྲིག་འཛུགས་བཀའ་ཤག་གི་བཀའ་དགོངས་བཞིན། གུས་བརྩི་ལྡན་པའི་ཐོག་རྒྱ་གར་རྒྱལ་ཡོངས་སྤྱི་ཚོགས་ཞབས་ཞུ་ཚོགས་པའི་ཚོགས་མི་ཁག་ཅིག་ལས་གྲུབ་པའི་སྐུ་ཚབ་ཚོགས་ཆུང་གི་འཐུས་མི་སྐུ་ཞབས་ Vijay Ji, Kshetriya Karyawah  མཆོག་གི་སྣེ་ཁྲིད་དང་རྒྱ་གར་བོད་དོན་རྒྱབ་སྐྱོར་ཚོགས་པའི་འཐུས་མི་སྐུ་ཞབས་ Saurabh Saraswti, National Gen. Secretary མཆོག་གི་སྣེ་ཁྲིད་འོག་ཚོགས་པ་ཁག་གཉིས་ནས་འཐུས་མི་ཁག་ ༦༠ བོད་ཀྱི་ཟློས་གར་ཚོགས་པའི་གར་གླུའི་རིག་རྩལ་ཁང་གསར་པའི་ནང་བརྗིད་ཉམས་ཆེ་བའི་ཁྲོད་དུ་སྤེལ་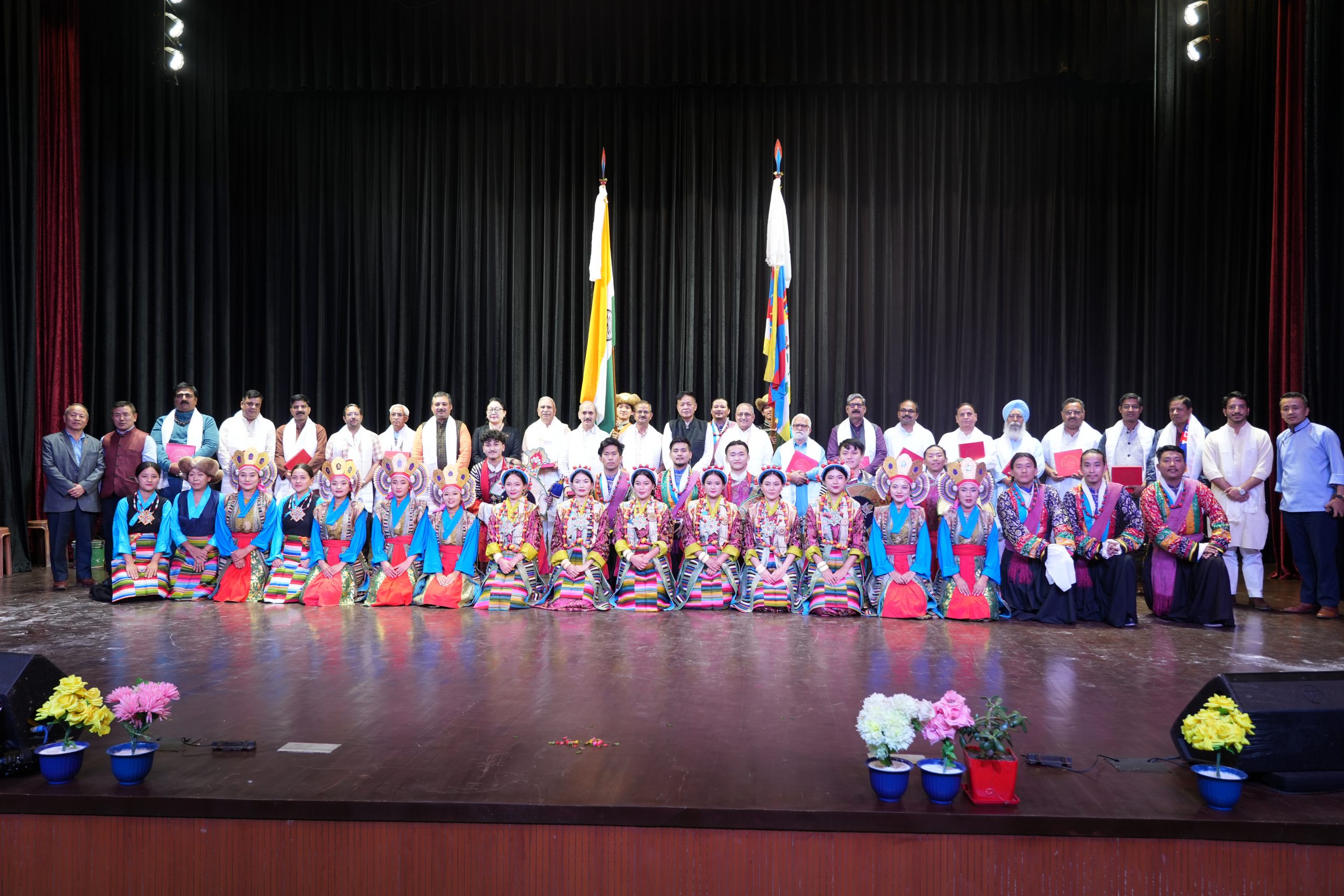 On the enchanting evening of September 23, 2023, at the behest of the Kashag – Central Tibetan Administration, we rolled out the red carpet for the esteemed delegation of the Rashtriya Swayamsewak Sangh led by the Shri. Vijay Ji, Kshetriya Karyawah and the Bharat Tibbat Sangh delegation led by Shri Saurabh Saraswt, National Gen. Secretary, guided by the esteemed In a remarkable convergence, more than 60 delegates from both organizations graced TIPA with their presence, in addition to their official engagements with the CTA. 
The heart of the evening unfolded in the grandeur of TIPA's new auditorium. Here, Mr.Dhondup Tsering, the Director at the helm of the Tibetan Institute of Performing Arts (TIA), extended a gracious welcome and offered a captivating introduction to the world of TIPA.
The stage was then set ablaze with an exquisite hour-long cultural performance. Our artists skillfully wove together the threads of Indian classical dance, Bharatanatyam, the soul-stirring "Thank You India" song, and a breathtaking array of Tibetan cultural folk dances. The crescendo came with the harmonious rendition of the National Anthem and the unfurling of the flags of India and Tibet. Such was the artistry of our performers that the audience, deeply moved, couldn't help but rise to their feet, showering them with a well-deserved standing ovation.
In heartfelt appreciation of the warmth and hospitality extended by the Government of India and its people, Sikyong Penpa Tsering presented tokens of gratitude to each delegation on behalf of the Tibetan people, it was a poignant gesture, symbolizing the enduring friendship and cultural exchange between Tibet and India.