ཕྱི་ལོ་ ༢༠༢༣ ཟླ་ ༡༠ ཚེས་ ༠༥ ཉིན་ཡོ་རོབ་གྲོས་ཚོགས་ཀྱི་འཐུས་མི་ཚོགས་པར་བོད་མི་མང་སྤྱི་འཐུས་ལྷན་ཁང་གིས་གོ་སྒྲིག་འོག་བོད་ཀྱི་ཟློས་གར་པའི་གར་གླུའི་རིག་རྩལ་ཁང་དུ་ཟློས་གར་སྒྱུ་རྩལ་བ་རྣམས་ཀྱིས་བོད་ཀྱི་ཐུན་མོང་མ་ཡིན་པའི་རིག་གཞུང་འཁྲབ་སྟོན་གཟབ་རྒྱས་གཟིགས་འབུལ་ཞུས་པས་འཐུས་མི་རྣམས་ཡིད་དབང་རབ་ཏུ་འཕྲོག་སྟེ་དགའ་བསུ་འཚམས་འདྲི་དང་ཡི་རང་བསྔགས་བརྗོད་གནང་སོང་།
ད་ལན་ Friedrich Naumann Foundation (FNF) ཚོགས་པའི་གོ་སྒྲིག་འོག་ཇར་མན་དང་ཝེཌ་ནམ། ཨོ་སི་ཀྲོ་ཡ་བཅས་ནས་གྲོས་ཚོགས་འཐུས་མི་བཅུ་བཞུགས་སྒར་དུ་ཕེབས་གནང་མཛད་ཡོད་པ་དང་། ཉིན་འདིར་བོད་ཀྱི་ཟློས་གར་ཚོགས་པའི་སྤྱི་ཁྱབ་འགན་འཛིན་སྐུ་ངོ་དོན་གྲུབ་ཚེ་རིང་ལགས་ཀྱིས་དགའ་བསུའི་འཚམས་འདྲི་དང་སྦྲགས་བོད་ཀྱི་ཟློས་གར་ཚོགས་པའི་ལོ་རྒྱུས་སྙིང་བསྡུས་ངོ་སྤྲོད་གནང་། སྒྱུ་རྩལ་བ་རྣམས་ཀྱི་གར་སྟེགས་ཐོག་འཁྲབ་སྟོན་གནང་བའི་བོད་ཀྱི་དམངས་ཁྲོད་ཞབས་བྲོ་སྒྱུ་རྩལ་ལ་གཟིགས་མོ་བ་ཚོར་ཡིད་དབང་རབ་ཏུ་འཕྲོག་སྟེ་སྐུ་བཞེངས་ཐོག་ལག་པའི་ཐལ་རྡེབ་ཀྱིས་བསྔགས་བརྗོད་གནང་སོང་།
མཐར་ཡོ་རོབ་མནའ་འབྲེལ་གྲོས་ཚོགས་ཀྱི་འཐུས་མི་ཚོགས་པར་ཐུགས་རྗེ་ལེགས་འབུལ་ཞུ་ཆེད་བོད་མི་མང་སྤྱི་འཐུས་ལྷན་ཚོགས་ཀྱིས་ཚོགས་གཞོན་སྐུ་ངོ་སྒྲོལ་མ་ཚེ་རིང་མཆོག་ནས་གསུང་བཤད་གནང་རྗེས་འཐུས་མི་ཚོགས་པར་ཐུགས་རྗེ་ཆེ་ཞུས་པ་དང་ལྷན་ཁོང་རྣམ་པ་ཚོས་སྔ་ཕྱི་བར་གསུམ་དུ་རྒྱབ་སྐྱོར་གནང་བ་དེས་བོད་དང་ཡོ་རོབ་མནའ་འབྲེལ་ཚོགས་གཉིས་བར་སྔར་ལྷག་མཛའ་ཤེས་ཀྱི་འདུ་ཤེས་གོང་སྤེལ་གནང་བར་མཚོན་ཡོད།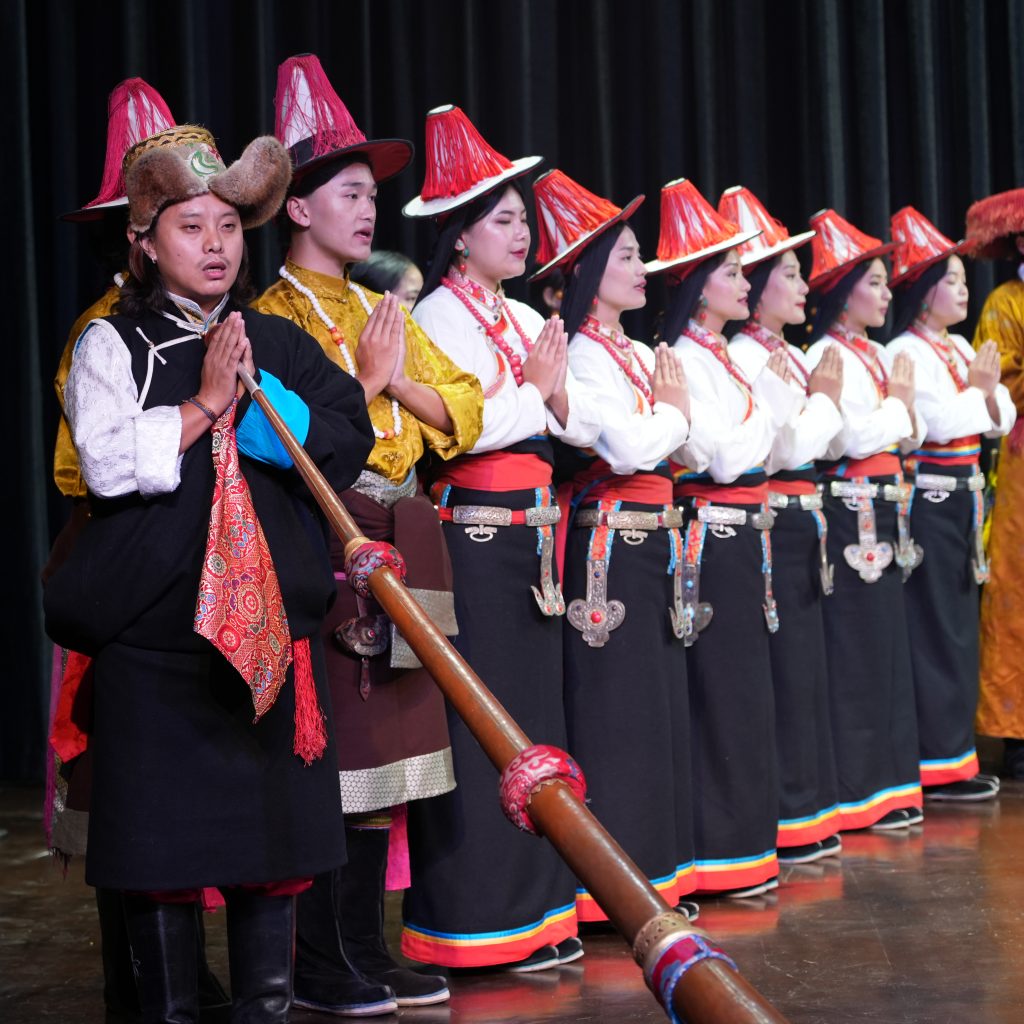 Dharamshala, October 5, 2023 – In a mesmerizing evening of cultural celebration, the Tibetan Institute of Performing Arts (TIPA) played host to a distinguished delegation from the European Parliament. This visit, organized by the Friedrich Naumann Foundation (FNF), welcomed 10 members of parliament from Germany, Vienna, and Austria, at the request of TMPiE – Central Tibetan Administration.
Upon their arrival, the esteemed guests were greeted with traditional Tibetan scarves and guided to TIPA's state-of-the-art auditorium hall, setting the stage for an unforgettable experience.
The evening's centrepiece was TIPA's new auditorium, where Mr. Dhondup Tsering, Director of TIPA, extended a warm welcome and introduced the rich world of Tibetan performing arts. The stage came alive with an exquisite hour-long cultural performance, featuring a stunning array of Tibetan folk dances. The performance reached its zenith with a harmonious rendition of the National Anthem and the unfurling of the Tibetan flags. The artistry of the performers moved the audience so deeply that they rose to their feet, offering a heartfelt standing ovation.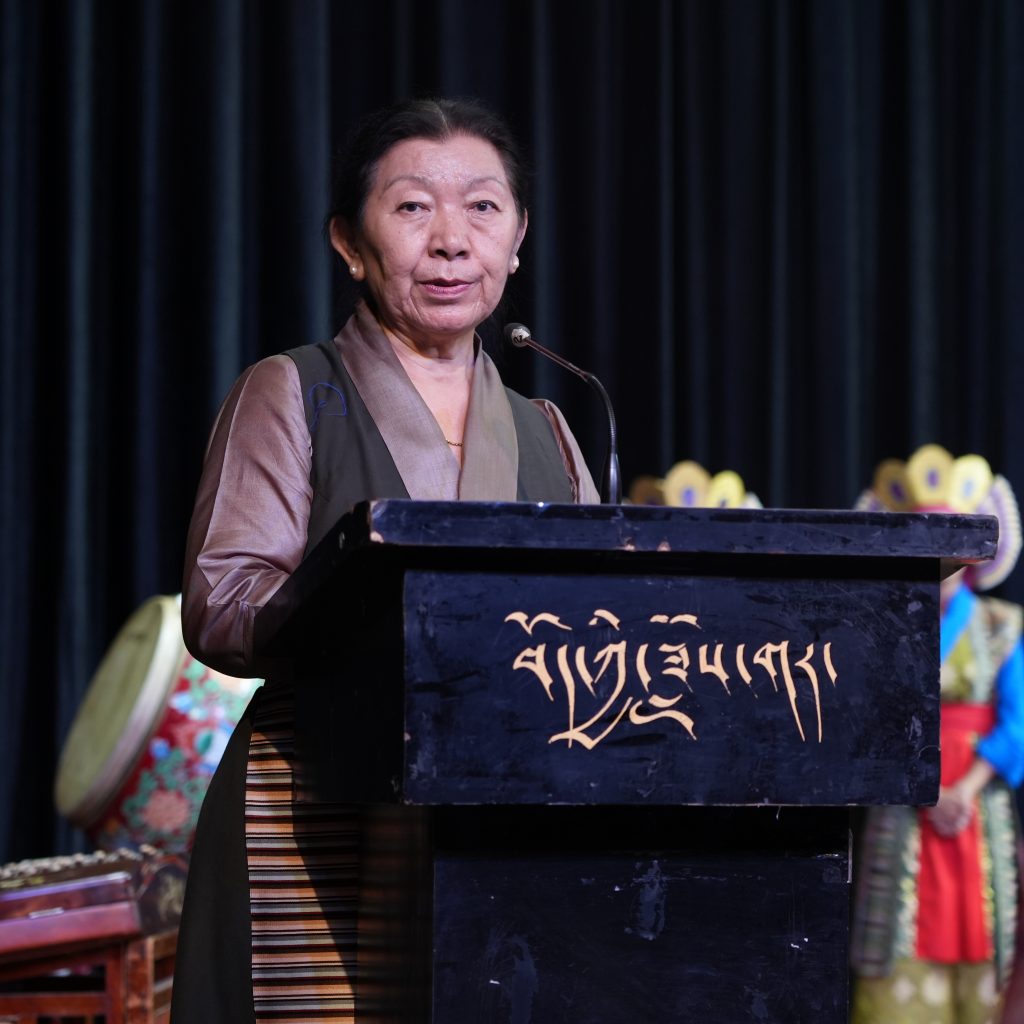 For many in the audience, this evening marked their first encounter with the enchantment of live Tibetan culture. Their awe and admiration bore witness to the exceptional talent of TIPA's artists, who showcased this priceless facet of Tibetan heritage on an international stage. The Guests also deeply acknowledged how well TIPA has preserved the endangered ART in spite of the difficult circumstances.
In a gesture of gratitude to the EU parliamentary delegation and its people, Speaker Kenpo Sonam Tenphel and Deputy Speaker Dolma Tsering of TMPiE presented tokens of appreciation to each member on behalf of the Tibetan people. Ms. Dolma gave a short speech thanking the delegation as well as acknowledging their enduring support. This poignant act symbolized the enduring friendship and cultural exchange between Tibet and the EU parliamentary.