TIPA won the hearts of people in Ladakh through their performances and developed diplomatic ties.
At the invitation of the Ladakh Autonomous Hill Development Council, an autonomous district council that administers the Leh district of Ladakh, a cultural troupe of 26 professional artists from the Tibetan Institute of Performing Arts (TIPA) visited the union territory in the last week of October for Tibetan cultural performances.
The artists gave performances at a fund-raising event for a charity set up by His Eminence Thiksey Rinpoche on October 30 at the NDS stadium and a few days later at another event exclusively for government officials. These performances drew huge applause and appreciation from the audience. During the official ceremonies at these cultural events, Mr. Dhondup Tsering, Director, TIPA, expressed his gratitude to the Ladakh Autonomous Hill Development Council for their kind invitation and presented TIPA memorabilia to the Chief Guest and dignitaries.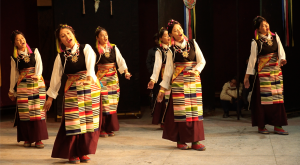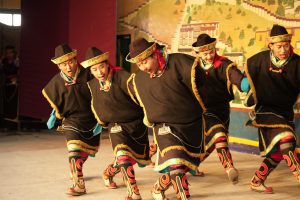 During this Ladakh tour, TIPA artists also performed at the Tibetan Children's Village school auditorium on November 1 at the invitation of the Chief Representative Office, Ladakh, and enthralled the schoolchildren, staff, and faculty, as well as Tibetan and local people.
The TIPA delegation also had an audience with His Eminence Thiksey Rinpoche at his monastery where the director offered a statue of Thangtong Gyalpo, the world's greatest yogi, to Rinpoche as a gesture of sincere wish and prayer for his long life to serve all sentient beings. The artists performed "Ngonpey Dhon" and other cultural performances in the presence of Rinpoche and other local dignitaries and invitees. In his address, Rinpoche highlighted the importance and uniqueness of Tibet's rich cultural heritage, especially the Ache Lhamo opera tradition, and encouraged the artists to continue this rich tradition.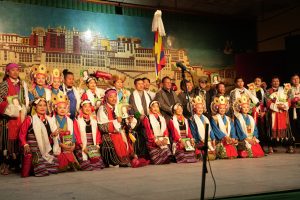 On the last day of the tour program, a musical event was organised exclusively for the UT government officials by LADHC in the presence of Shri Umang Narula, advisor to the honourable governor of the UT government, advocate Shri Tashi Gyalson, honourable chairman/CEC, executive councilors, and high officials of LADHC and the UT government. 
The Ladakh Autonomous Hill Development Council hosted a farewell dinner party at the Grand Dragon Hotel for the TIPA delegation in appreciation for all their performances and for showcasing the rich Tibetan cultural heritage through the arts.
Summing up the Ladakh tour, Mr. Dhondup Tsering noted that this visit—the first since 2014—not only brought Tibetan dance and music to the people of Ladakh, who also share this same cultural heritage, but also helped strengthen the cultural bonding and relationship between Tibetans and the people of Ladakh.