བོད་ཀྱི་ཟློས་གར་ཚོགས་པའི་མ་ཧོ་ས་ཧྥུ་ལ་འཁྲབ་སྟོན་ཞུས་པ།
རྒྱལ་ཡོངས་མ་ཧོ་ས་ཧྥུ་དུས་ཆེན་གྱི་གོ་སྒྲིག་ཚོགས་ཆུང་གིས་གདན་འདྲེན་ཞུས་པ་ལྟར་ཕྱི་ལོ་ ༢༠༢༣ ཟླ་ ༡༡ ཚེས་ ༠༢ ཉིན་མ་ཧོ་ས་ཧྥུ་དུས་སྟོན་གྱི་མཇུག་བསྡོམས་མཛད་སྒོར་ཧི་མ་ཅཱལ་མང་གཞུང་གི་བློན་ཆེན་སྐུ་ཞབས་ཤྲཱི་ཇ་ཊི་སིངྒ་ནེ་གྷི་མཆོག་གཙོ་མགྲོན་དུ་ཕེབས་བཞུགས་གནང་བ་དང་།གཞན་ཡང་ས་གནས་དཔོན་རིགས་དང་གནད་ཡོད་མི་སྣ་གཙོས་མི་མང་སུམ་སྟོང་འདུ་འཛོམས་སར་བོད་ཀྱི་ཟློས་གར་ཚོགས་པའི་འཁྲབ་སྟོན་པའི་བོད་ཀྱི་རིག་གཞུང་འཁྲབ་སྟོན་གཟབ་རྒྱས་གཟིགས་འབུལ་ཞུས།
དུས་སྟོན་འདི་ནི་ཟླ་ ༡༠ ཚེས་ ༣༠ ནས་ཟླ་ ༡༡ ཚེས་ ༠༢ བར་རེབ་གོང་པུའུ་རྫོང་ནས་ལོ་ལྟར་སྲུང་བརྩི་ཞུ་སྲོལ་ཡོད། དུས་ཆེན་འདི་ནི་མངའ་སྡེའི་དུས་ཆེན་དུ་གཏན་འབེབས་བྱས་ཡོད་ཅིང་། ཕྱི་ལོ་ ༡༩༨༧ ལོ་ནས་བཟུང་མིང་འདྲ་མིན་བཀོལ་སྤྱོད་ཀྱིས་ཇནྟི་ཡ་ཨུཏྤ་སཱབ། ཕུ་ལ་ཨུཏྤ་སཱབ་དང་ད་དུང་ཚོ་ཁག་དུས་སྟོན་སོགས་འབོད།
བོད་ཀྱི་ཟློས་གར་ཚོགས་པའི་སྐུ་ཚབ་རྣམས་གདན་ཞུས་ལྟར་ཚམ་ཚོམ་སྤུ་ཙམ་མེད་པར་དུས་ཡུན་ཚོུད་བཅུ་དྲུག་རིང་འགྲུལ་བཞུད་ཀྱིས་དཀའ་ཚེགས་སྤྱད་ནས་མཛད་སྒོ་འདིར་བཞུགས་པ་དང་། ལོ་རྒྱུས་རང་བཞིན་ལྡན་པའི་དུས་ཆེན་འདི་ལ་བརྩི་བཀུར་མཚོན་བྱེད་དུ་ཐེངས་དང་པོར་བཅར་ཐུབ་པ་བྱུང་ཡོད། དེ་ནི་བོད་མི་རིགས་ཀྱི་རིག་གཞུང་གི་འབྲེལ་ལམ་ཟབ་མོ་ཡོད་མཁན་གྱི་ཁུ་ནུའི་མི་རིགས་ལ་བསྐྱར་མཐུད་བྱེད་པའི་གོ་སྐབས་གལ་ཆེན་ཞིག་ཏུ་གྱུར་ཡོད་པས་བོད་ཀྱི་མཐོུང་མ་ཡིན་པའི་རིག་གཞུང་འཁྲབ་སྟོན་ཟབ་རྒྱས་ངང་ཞུ་ཐུབ་པ་མ་ཟད་སྐུ་མགྲོན་གཙོས་པའི་རྒྱལ་ཆེའི་གཟིགས་མོ་བ་རྣམས་མཉམ་ཞུགས་ཀྱིས་སེམས་ཚོར་ཆེན་པོས་དགའ་ཚོར་དཔག་མེད་ངང་ཐལ་མོའི་རྡེབ་སྒྲས་ཁེངས་ཏེ་བསྔགས་བརྗོད་གནང་།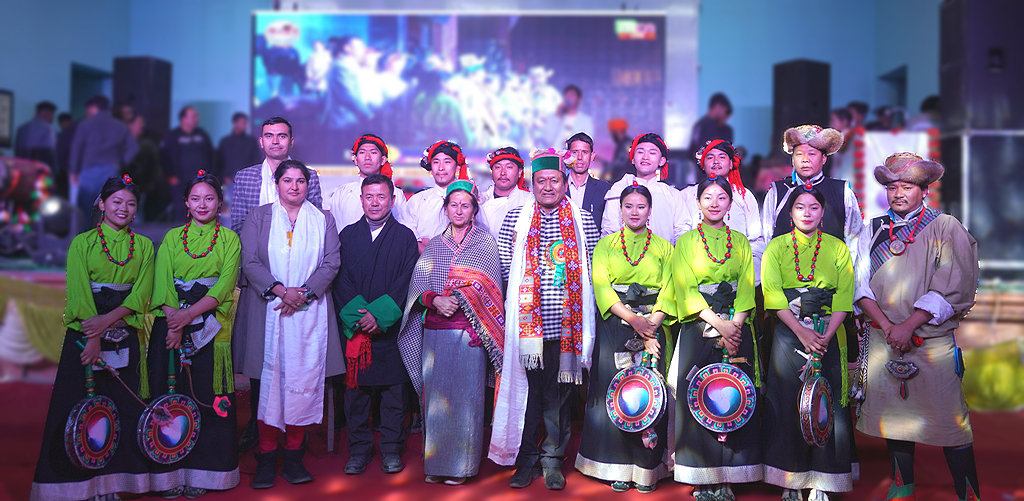 TIPA makes debut at Mahotsav Festival, 2023
At the prestigious invitation of the organizing committee of the state-level Mahotsav Festival, TIPA artists presented a Tibetan cultural performance on the closing day of the festival on November 2, 2023, in the presence of Hon'ble Shri Jagat Singh Negi, Revenue, Tribal, and Horticultural Minister, Government of Himachal Pradesh, along with local officials and dignitaries. The audience of more than 3000 thoroughly enjoyed the performance.
The festival is celebrated from October 30 to November 2 every year at the district headquarters, ReckongPeo. It has been declared a state-level festival and has been celebrated since 1987 under different names like Janjatiya Utsav and Phulaich Utsav, as well as as a tribal festival.
In response to this invitation, the TIPA delegation did not hesitate in making the 16-hour arduous journey to the venue, underscoring the professionalism and respect for the people of Reckong Peo and the historic festival.